It has taken me a day or two to regain my footing and put together a few thoughts on the convention that was Regeneration Who 2. Now that the glitter has settled (and has failed to go away) I will attempt to put into writing the things that have been running around in my head looking for a way out.
I titled this piece the way I did because while the was the second Regeneration Who con it was the first to have a dedicated children's program. It was also the first time I'd been in charge of a chunk of con program. Yes, I've been part of the Intervention team for years but this was different. It was my direction – and I'm the kind of person that criticizes myself easily twice as much as anyone around me, probably more than that really. I had a grand vision in my head.
No plan survives contact with the enemy… Wait. Perhaps that isn't the right way to phrase that. My full vision failed to account for certain realities. My free time for planning crashed directly into aspects of my day job. Another volunteer organization I work with put unexpected demands on my time. I didn't have enough knowledge of materials and cosplay materials specifically to pull off one of the things I thought would be a centerpiece of our program. I failed at a couple of points that I wanted to be epic wins and that's exactly the sort of thing that frustrates me. The plan generally survived, but I've been going over it and over it in my head since then figuring a way to make it better.
I take the time to read Oni's "real talks" and I suppose this falls into the same category despite my inability to master her specific… eloquence. I know there has been a lot of praise for what we did, and I am truly thankful for that. It makes the struggle worth it. I know there weren't as many problems to the eyes of convention attendees as there were to my eyes, but I saw the things I could do better. I saw the opportunities to really let my small portion of the team excel and really push it all over the top. Eta and Channon deserve a huge chunk of the credit for all that we did. I wouldn't have survived the weekend without them. My unofficial helper (my lovely wife) was indispensable as well. They were the glue that held my macaroni to the page. I will always strive to hit that grand vision and really nail it – always. I know my team will be there with me.
In the end it was not the grand vision, nor was it a centerpiece activity. It was a small, simple gesture that made it all come together. Share a hug with a teddy bear and make the whole world better.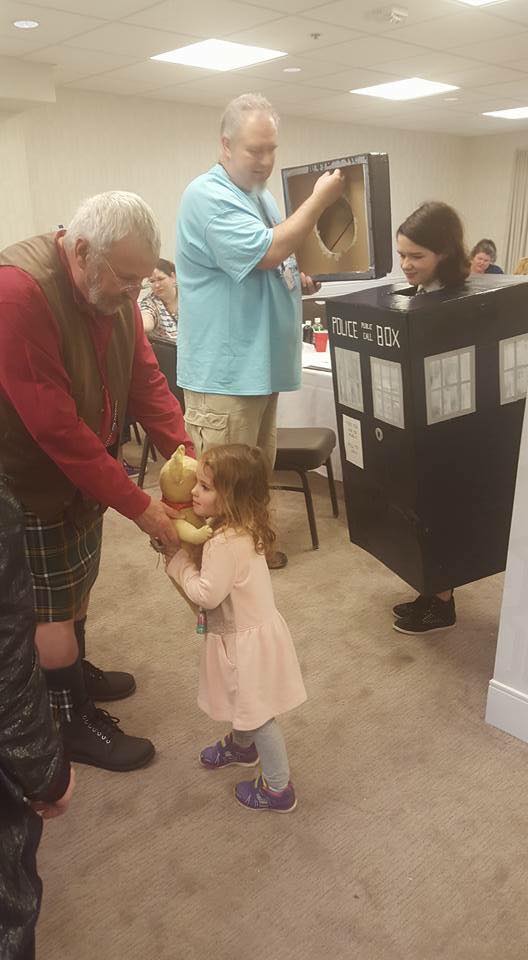 It's vital to have these moments and keep all of our kids interested in the joy that is sharing our passions. I can only hope to equal that in the years to come. I will be there – and maybe I'll bring my teddy bear too.
Check out some of the other things we had going on and make plans to be there next year: