Our day in Cardiff was going to be a tough act to follow. We only had 2 items on the agenda for our Wednesday – going to the British Museum and stopping by Forbidden Planet.
The British Museum is a lot like the Smithsonian – all piled into one huge building. We headed in around opening time (ten-ish) and wandered around. There are some amazing things on display at the museum. I got to see THE Rosetta Stone, live and in person.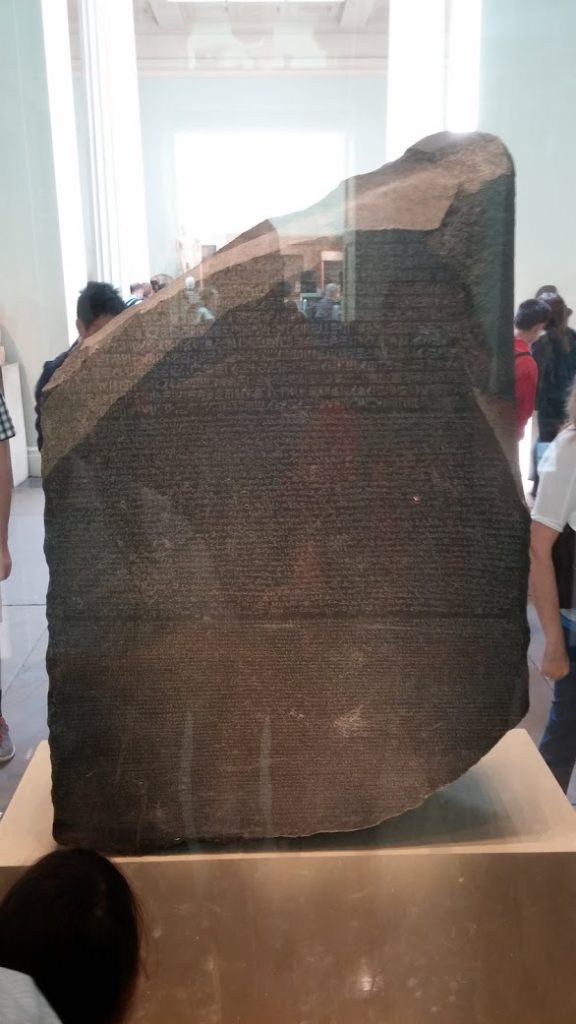 There were so many things I really lost track of it all. We did be sure to have a little fun along the way
but the sheer number of people there made for a less than perfect experience. I suspect if we hadn't just had such a magnificent day in Cardiff I might have been more forgiving. I got very, very tired of people bumping into me, people crowding what I was trying to read, people swinging their selfie-stick around with wild abandon. IF we lived closer I suspect we'd go there in much the same way we return to Washington and the Smithsonian here in the states. It was impressive to be sure, but we all struggled with the crowd.
We actually stayed in the museum almost until closing time. When we did come out we wandered a few streets over and found our way to Forbidden Planet! A huge comic shop right in the middle of London. I had this odd notion that I'd be able to wander and chat with staffers and all the kinds of cool things I'd do at any shop like that here at home. I suppose if I were a local I'd probably have had more success – but it was super busy. There were tons and tons of things to see both upstairs and downstairs. I did manage to wander for a while. I even found some works I recognized – and I was sure to face out the books. I also took one moment in there to "hand sell" a friend's title when I saw a couple of local guys looking for something to read.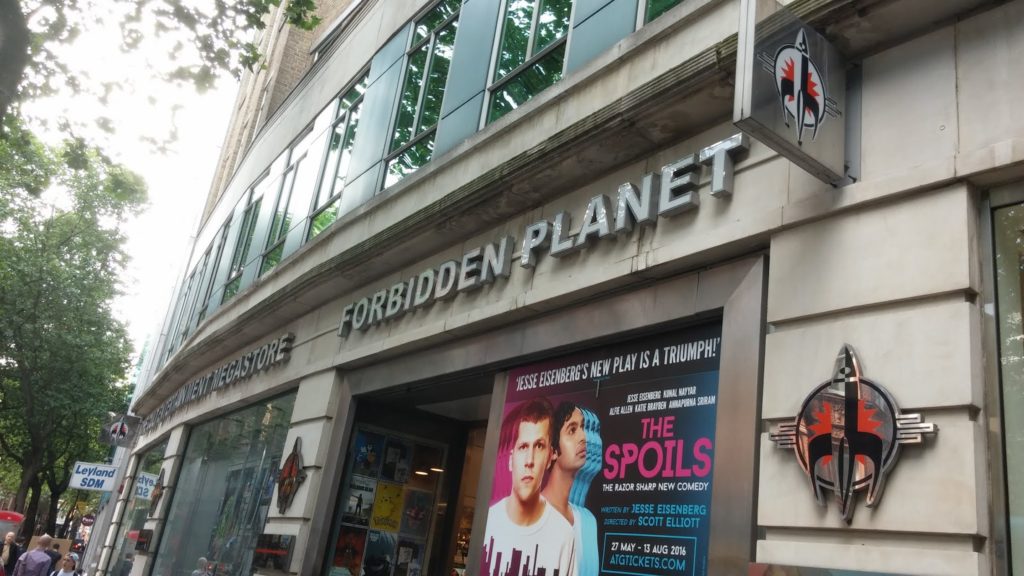 I could have spent a lot of time (and likely a lot of money) in there, but it was late in the day and we were all worn out from so many hours of walking. We headed back to the underground and back to the hotel.
For those of you that have seen a certain movie – we hit a point not unlike that of a certain Wade Wilson hit with health care when considering what to eat for dinner. We said something like the same thing he did and headed to the Subway that was across the street….
They had apparently hit the same point. It looked like a trash bomb had gone off in there. They were out of about half of everything. Really one of the two worst dining experiences we had in London. We grabbed our sad and disappointing sandwiches and called it a night.
Thursday had more cool stuff in store!