Once we had finished with our fantastic time at the Dr. Who Experience we hopped the bus back to the central station. We then attempted to figure out what bus to take to get to Cardiff Castle – because touring a castle would be cool, right? Oh how little we knew.
After strolling around and looking lost for a few minutes we were approached by a local. Chris introduced himself and we had a really lovely chat for about 5 minutes. We got all kinds of great tidbits including being pointed right to the castle gate.
It was still a slow Tuesday afternoon so when we got to the castle and wandered in it was very easy to grab a tour. IF you're going to do this – there are stairs. There are lots of stairs. It's a pre-medieval castle… no elevators. The kiddo and I jumped in with the tour and my lovely wife decided it was a good time for a sit down so she let us go on ahead. The castle itself is really excellent. There were only 5 of us on the tour so we got some really fantastic information. When the tour guide asked us what brought us to the area we told him about going to the Dr. Who Experience. He said, "OH, then you'll really like what we've got coming up."
I didn't realize the show actually used Cardiff Castle for filming. We strolled right on into the library in the heart of the Tardis!
attachment_id=598″ rel="attachment wp-att-598″>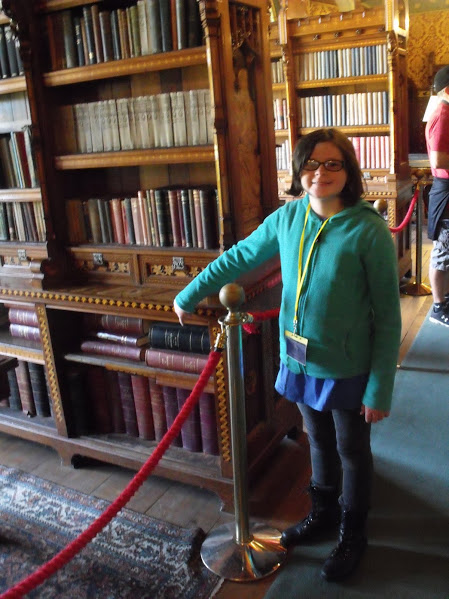 IF by some chance you can actually read the titles, you'll see they're all Cardiff City records.[/caption]
Needless to say we were pretty happy with this. The other family wasn't particularly interested and so they wandered on their own way once the tour was done. As soon as they were off the tour guide said, "IF you two have a few minutes, I'll call my friend Dean over." Well, we were on vacation – we had all kinds of time!
As it turns out Dean is a big time fan as well. We had a great conversation with him. He looked at us and said, "Would you like to travel the tunnel to Trenzalore? How about seeing the bath from Rebel Flesh?" SOLD!
He was fantastic! He'd actually worked with the guys on set for some of the show stuff and he took us back through all kinds of places and parts of the castle telling us all about where stuff was shot, who had been there, what other shows had been there, where the Tardis had landed… so much stuff that I lost track of it after a while. The kiddo was over the moon. She got to play like she was adding stuff into the acid bath and all kinds of cool stuff.
Fandom travels folks. WE got all kinds of cool scoop from our new friend. The 45 minute to hour tour was closer to two by the time we were done. We could not have been happier. It was awesome. If you are in Cardiff and you're a Dr. Who fan – go to the castle. IF you're not a fan? Go to the castle anyway. It's an excellent tour and there are some unbelievably cool things in there NOT related to the show (who knew?).
Just to cap the day off we stopped for some dinner on the way out of the castle. We'd seen a couple of really neat shops along the road, but the PIEminister caught our eye. Boy am I ever glad it did. We had traditional pie and mash. It was amazing. I needed another mouth to eat it more. Combined with a cider that was just splendid we all had a meal we won't soon forget.
We were happy, smiling and pretty wiped out – so the train ride back to London seemed to go by in a blur… and we'd only had 2 full days. The next day was off to the British museum!