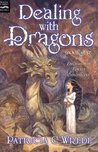 Dealing with Dragons by Patricia C. Wrede
My rating: 4 of 5 stars
This was a fun book. It is certainly a book for a younger audience, but the author tells a good tale and doesn't let the audience restrict the work. I am also very, very glad that my daughter read this. The lead character is a fun and strong example for girls. If you've got a middle grade reader this is a great book for them to pick up. I might even read on in the series with my daughter. It could be a lot of fun.