We actually used a travel agent for our trip. I know that's not really "the thing" anymore with discount travel sites and special deals through AirBnB and places like that, but I wanted to deal with somebody that knew and understood international travel. We know a number of people that have traveled to London a number of times. We got a ton of advice and suggestions. We still went with a professional for our flight tickets and hotel reservations. As far as I can tell it didn't have any real impact on the cost.
Our flight was scheduled to take off around 6:30 on Saturday evening. That gave us lots of time during the day to get our final bits together and take our time getting to the airport. The only real difficulty we had was some confusion with the actual flight number. It was a relatively new route (my understanding based on conversations with folks at the airport) so it was a Delta flight but sub-contracted and listed on the board as British Airways… or something. We knew our departure time and we found the gate based on the simple fact there was only one flight to Heathrow within hours on either side of our departure time. Kind of frustrating, but ultimately not a big deal. We go there and were ready to go… when they announced there was a problem with the plane's engine. The called for a two hour delay. We all settled in to wait. I had a very interesting chat with a British gentleman that now lives in Detroit. He's a retired automotive plant tool salesman. He had a lot of interesting opinions on current affairs and a bunch of suggestions about what to do and see in London. We also ended up talking to a really nice young lady that works at a college just down the road from us. She was on her way over to see former exchange students that had stayed with them. Lots of nice folks.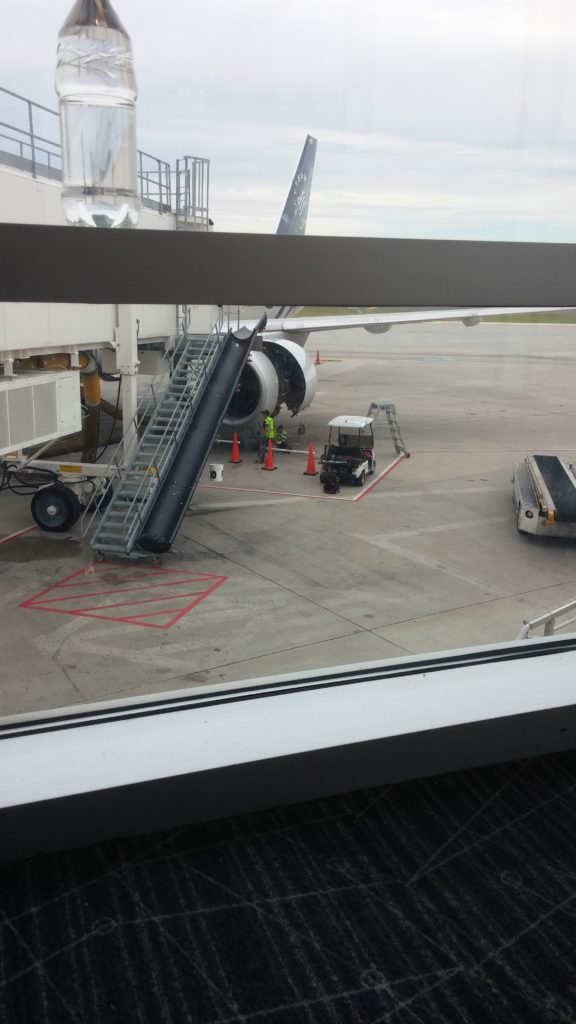 Thankfully they caught the problem on the ground and could actually get it taken care of in relatively short time. We were late, but only by an hour or so – not the two they called for. It was a good call on their part, under promise and over deliver. Made everyone feel better about being late. Once we got on the plane and into the air the pilot told us he was really sorry for the delay so he was going to go a little higher and a little faster to make up for lost time. The flight wasn't even close to full so I got to slide up to an exit row seat and had a bunch of leg room.
The idea with the overnight flight was that we'd sleep a little while we were flying and then just be up and doing stuff on our first day there. We were scheduled to leave around 6:30 PM on Saturday and arrive around 6:30 AM on Sunday (their time). The problem was that we weren't really ready to sleep on the flight. We got a small dinner and drinks. Then there was the entertainment. For anyone that hasn't flown lately, there's an tablet system in the headrest of the seat in front of you. Games, TV shows, movies, music – essentially an iPad fully connected to all the entertainment goodies you'd want for the flight. So the kiddo and I both ended up watching a movie after dinner. By the time we were ready to attempt sleep we were within an hour or two of landing and they were coming around with a series of snacks and drinks. We maybe got a nap of an hour or two. Maybe. And we paid for it.
Once we were on the ground Heathrow was actually relatively easy. I know a lot of people warned us about how bad it was going to be and how busy, but it was actually just as easy to navigate as Philly if not more so. There were some confusing bits due to the large amount of construction going on, but all in all pretty easy. We had a transfer all set up via our travel person so once we made it past the baggage area there was a guy there holding a sign with our name on it. Very fancy – we got our own car and driver to the hotel!
The driving in London was crowded even at 7 in the morning on a Sunday. There were lots of different car brands that we don't really see over here, lots of different places to look at. Interestingly – I noticed right away that I just didn't see any bumper stickers. I have no idea why that is – just didn't see them. I expected a highway similar to our interstate system. What I got was more like one of the old neighborhoods in Maryland that have a high volume of traffic. For anyone nearby where we live here in PA, I was looking for something like 81 or 83 and got something more like 15 through Camp Hill – only they were all on the opposite side of the road. Opposite side driving took some getting used to. That was the outskirts of London – then we went right down through the middle and got to where we were staying.
We had a great hotel. We were right off the end of the Westminster Bridge. When we got in we actually got to upgrade our room to one with a view. We looked out our window right at Big Ben and the bridge. We couldn't get into the room as we arrived so early so we stored our bags with the concierge and headed out for a walk to see what was in the immediate area.
The kiddo crashed hard after not sleeping. She was hungry and tired. We all were. We wandered and pushed through early crowds and finally gave up. We went to the stretch between the bridge and the Eye where all the tourist stuff is and got some McDonald's for lunch. I now have the somewhat dubious distinction of having eaten at McDonald's on 3 continents. It was pretty much exactly what you'd expect – loud, busy, small, crowded and utterly McDonald's. There wasn't even a huge taste difference – not nearly as much as the one I went to in Korea anyway.
We eventually got a text message from the hotel that our room was ready. We went and crashed for about a 4 hour nap right through the heart of the afternoon. Once we did wake up all we really could muster was the energy to walk across the street and grab dinner. One of the things we thought going over was that we would see curry shops all over the same way we have Chinese take-out places over here. Apparently those are not "in" anymore. What is "in" now is Italian restaurants. We couldn't turn around without finding a place that served or specialized in Italian. We grabbed our dinner from the Italian restaurant in the courtyard area. They were crazy busy. We got in between a couple of reservations apparently. The food really was good – if a bit pricy. Everyone enjoyed their food, but after we were done it was all we could do to get back to the room and call it a night!
Our room was very sleek and modern. It also had some… odd decor. This was the closet door next to the bed:
Monday was our first tour – more on Monday!