I'm going to start my book review of Ink and Bone by Rachel Caine with the most important part. I finished this book then went and bought the second one and started reading. It has been pointed out to me that is a rare circumstance and speaks more to the quality of the story than anything I could have to say about it. So there's that ~ there might be spoilery stuff below…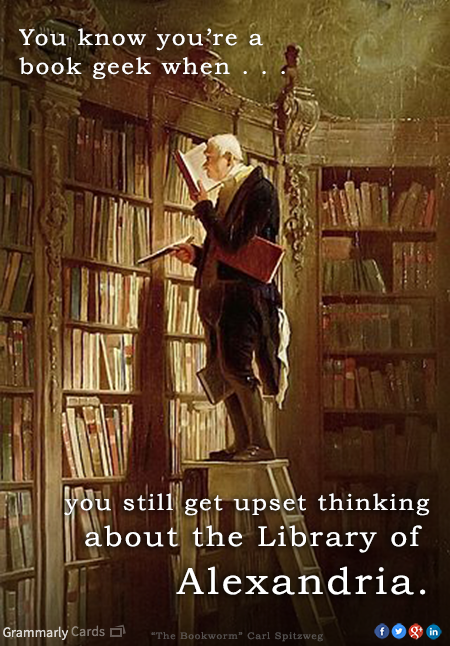 What if we didn't lose all the works from the great library? What if indeed.
I really enjoyed the pace of this book. The story didn't slow down for me. Even when the students were studying or working out how they were going to be tested next there were bits and pieces that tied in to the rest of the story. There was a lot more action than you might think for a bunch of librarians. The action was also believable – Jess ends up in the hospital more than once. None of that "I'll just continue on because I'm so tough…" actually working out. He's got the attitude for that, but more often than not he wipes himself out with that thought process.
Jess as a character was trying to do the right thing. He was not a whining anti-hero. I enjoy and appreciate that more and more these days. He was anxious, clever and dense in various turns, in love and certainly passionate about what he was doing. He really worked as a character for me. He played well off the others as well.
The rest of the cast of characters developed well. I consider it a well written character when I'm reading and think, "wow that guy is a douche. I wouldn't get along with him…" and I got those visceral reactions more than once. Well done.
There is one thing that I would quibble with – and it is just a quibble really. The timeline. This book, even with the magic of obscurists, didn't feel like a "modern" story. Despite having stated someplace in there that this was set in 2025 or something like that it absolutely felt like 1890. The technology, the locations and the general societal attitudes placed it there, but also the "technology" of the books hurts the concept if you move further forward. What I mean by that is this: you've got the ability to pass notes from one linked book to another all over the world. You have the ability to transport matter (if you can send books, you can send anything) and people across the planet without appreciable delay… even if it's a limited ability. IF you take this time line as an "alternate history" those bits of technology change how major developments in our past happen during the 1900s. World War II CAN'T happen the way it did in our world if you have instant communication across distances like that. There's no accident of timing. There's no struggle to travel the distances necessary to fight others in a distant land… but why would you send soldiers at all? Just send the bomb and let that do the work for you with none of the danger.
I think there's a lot of potential for this series and I am already enjoying the next book. I would recommend picking this one up and giving it a shot.