In a rare moment of timeliness I've actually had the opportunity to watch "Bright", the new film from Netflix. It was released yesterday (December 22, 2017). I watched at home with a couple of close friends. I think that's the most telling thing ~ this is a movie production with a number of well known Hollywood actors that I didn't go to the theater to see when it opened, I went to the couch. Best seat I've had for a new movie in a while. That was a good thing because this movie felt like it was longer than the listed two hours it was supposed to be.
Spoilers ahead ~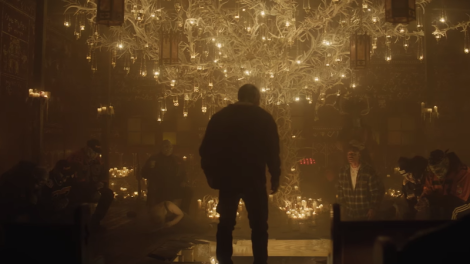 I thought it was a very interesting choice by the storytellers to just dump us into a modern day society where elves and orcs simply live. There was no long text explanation about why or when this happened. There was no "this is when things changed", it was simply the way things are. Interesting, but maybe not the best choice. I get it, you can't do a LOTR thing where you've got 6 hours of movie… OH, wait. It's Netflix, so yes that totally could have been done. Netflix routinely posts entire seasons of shows all at once. People then watch when and where they can. I hear some folks out there, "but this is a movie…" and I will counter that with the abomination that was a string of special effects and made up romances supposedly based on The Hobbit. Those three awful things are one film. As much as I dislike the result, the example stands. Netflix and the storytellers could have really expanded this world and given a deep, rich background that wouldn't leave people looking at light up milk bath trees and thinking "what?".
I will actually compare this to a role playing game / series of novels from the 90s – Shadowrun. Shadowrun did the world building behind the change. They brought magic and magical races into the world and then shook society up to make the changes in the world understandable. In Bright 'Elves run the world' really felt like a cosmetic application that allowed for comparison to how "gritty" the part of the story we're dealing with really is. In Shadowrun Native Americans gain power based on how the world changed. It's explained in terms relative to the story. It mattered and followed through. Bright felt like they wanted to paint over a things as they are today with a makeup brush and say "it's allegory" without explaining what happened to bring us there. Telling me you've got 2,000 years of history isn't the same as making me believe it in the story without being told. We never learn anything about the background that makes a "prophecy" believable in this context.
On to that portion of our program. OF course Will Smith was capable of picking up the wand with his bare hand and not blowing up. Saw that coming all the way. That's why we're riding with these guys. OF course they were going to win, there was very little doubt of that.
I will say I didn't see the resurrection of the orc coming. I thought it would have been really interesting if they'd just let him die and deal with the results of that. OF course that would have meant a movie that went a very different direction and that's never where we were headed. Now ANY future show or movie in this franchise will be required to deal with the idea that people who were dead can be made NOT dead by waving the magic stick around – even if the person waving the stick has only a "new recruit" level of training. The cost looked totally survivable, although that was tossed directly into the "obscure character death" category so we didn't need to deal with what that meant in this world.
The other thing that bothered me was a standard thing with films. It's so standard that I've actually taken to trying to avoid watching movie trailers altogether. I used to love to see what was coming out. Now all those trailers do is spoil all the best parts of any movie. The same was totally true for this film. I saw all the best parts in the previews. That was the most disappointing part of it all. Not only was the story predictable, but the best and funniest moments were all shown before I started watching. There were really funny parts that still landed in context, but I knew they were coming.
All of this might sound really negative, but I did actually enjoy watching the film. I don't think I'm rushing back to watch it again but I will be interested to see how this all plays out ~ will there be more from this world? Go, check out some urban fantasy and see if you think this will be the next trendy thing in film or if it will just die and go away… and maybe be brought back by magic wand.