Tuesday was our big day. We donned our Regeneration Who t-shirts, headed out of the hotel and hopped onto the underground. The underground is a very good way to get around London. It is however old and not necessarily laid out the way you might think. There were times when I thought we were caught in an old Family Circus newspaper comic where the kids took as long as possible to get back home. Up, down, through a tunnel, up and down in the same tunnel and across 2 more escalators and you're there, no problems. It was a lot of underground walking to go with the train ride. We transferred to the national rail service and rode through the countryside out to Cardiff. I feel the need to say – this was expensive. The train ride itself I mean. I think if we had known before we showed up at the train station we would have balked at the cost. Since we didn't know, we just forged on ahead.
Arriving at Cardiff was smooth and easy. We chatted with a couple of folks in the station and found that we needed to take the bus on the number 6 route and that would drop us off all but at the front door of our destination.
The bus was not nearly as easy to figure as the underground. We ended up paying more for the tickets to ride than we should have because the bus driver doesn't make change and we didn't have change on us. We did arrive all but on the doorstep as promised in just a few minutes.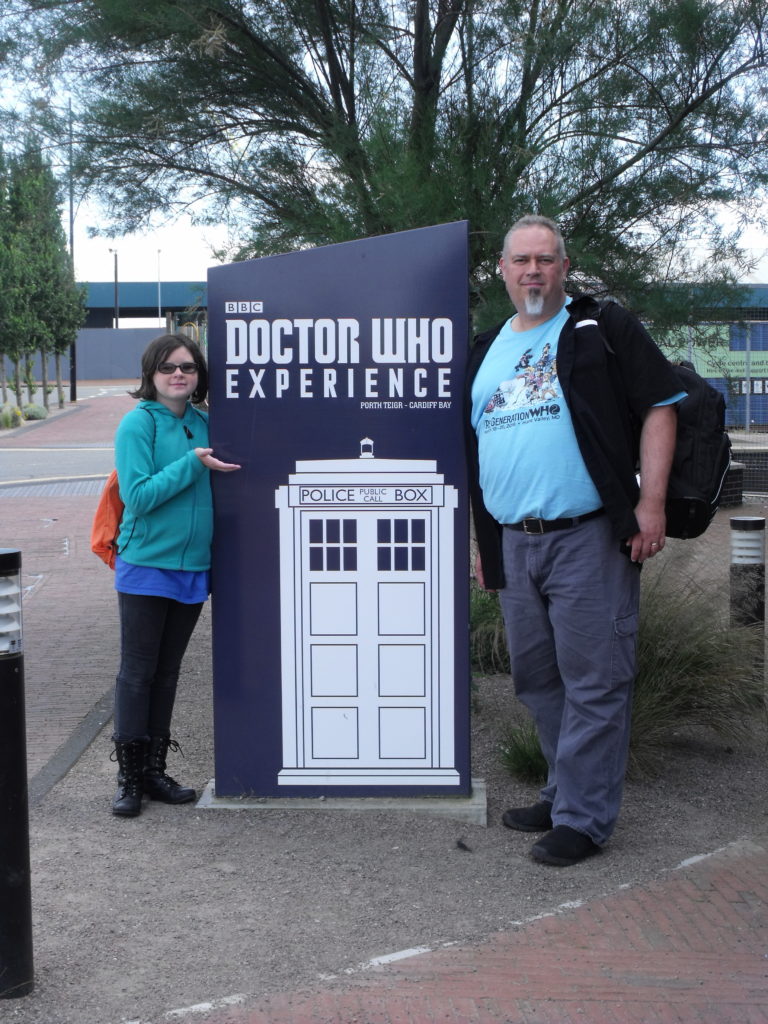 We had pre-booked our tickets so we walked in with our printed pages and walked directly into the next available spot. I'm certain it was because it was a slow Tuesday, but the people at the desk greeted us by name. "Ah, you must be the Hardenbrook family…" It was very cool. Like I said – I suspect it was because it was a slow day and we booked ahead, but it was still a good feeling and a great way to start. Little extra bits like that make all the difference. All the folks going in head through an interactive… show? I'm not quite sure how to explain it, but it was a good time. I won't give away any spoilers on what happens inside but they do make sure to get the "smaller humans" up front for the interactive bits of the show. The VIP tour badges with big crystals stuck on them glow at various times as you move through the whole thing. Sadly these were not for keeping. The kiddo got to be one of the participants while we were in the tour/show part and she was thrilled. I forgot to time how long this was, but it wasn't overly long.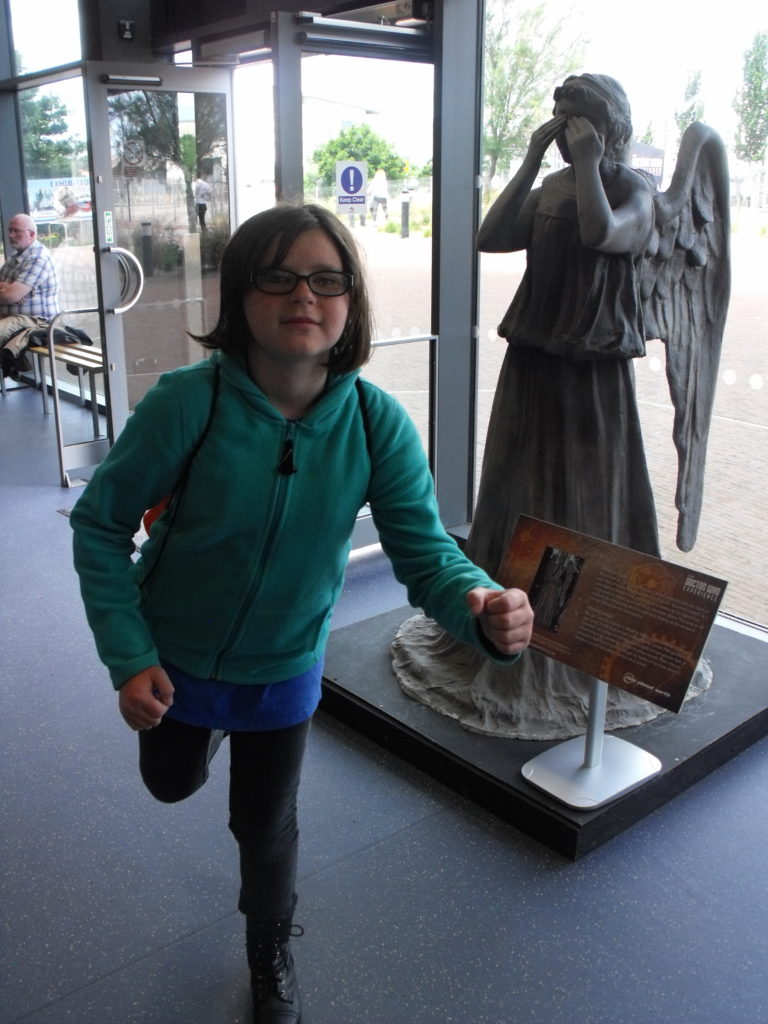 Once we got out of the show it was on to the exhibit itself. We got a ton of really good pictures in here. Every doctor's costume, a handful of monsters from the show and all kinds of nifty stuff on display. There were props, sets, documents and even a video loop with the show choreographer. You could learn to march like a Cyberman or walk like one of the scarecrows from Family of Blood. I have no idea how long we spent wandering in there but it was long enough to connect with a couple of the other fans there. We spread the word about the convention and one of the folks we met (a middle school librarian from Texas) actually took down the name and looked up the web site on her phone right away. Everyone was super nice and really friendly. Did I mention a ton of pictures?
We wandered the exhibit reading and marching like Cybermen and generally having a good time. Like any good tour location, we exited by way of the gift shop. Everything Dr. Who was there. Clothing, key chains, patches, snow globes, DVDs, comics, art, knick-knacks – you name it, they had it (at least if it was still in stock). We had actually picked up a swag bag along with our pre-order tickets so we had a t-shirt and a guidebook and some other things (including a Tardis key) waiting for us.
We spent about 3 hours there from beginning to end. I had a smile on my face the entire time. Smiling and having a great time is exactly why we came on vacation. Today was a good day no matter what else came up – but it was still only around 2 in the afternoon. What else could there possibly be?
Did you know that they have a castle there in Cardiff? IF you're a fan, you should know…