Thursday of the big London trip we had plans for smaller, off the beaten path type things. We were planning on heading to the Royal College of Physicians to see a special exhibit on John Dee. After we'd finished with that we were headed off to the Silver Vaults. We decided that since one particular wizard was the origin of this trip idea that we'd stop along the way at King's Cross rail station to see a particular platform where one might head off to a wizard's school.
The "platform" isn't really a platform anymore. They've moved it up to the concourse area next to a gift shop. There's a line and a professional photographer. You can still snap your own picture for free – but you've got to wait through the line. I'm glad we got to stop here, but it was disappointing to see what the "magical platform" had become.
We decided it would be easier to grab a taxi to the exhibit. We didn't have a clear understanding of what that meant from King's Cross station. There was of course a line to get a taxi. There's a line for everything.
We made it to the college and headed in. The exhibit itself was neat and quiet. There was a lot of cool stuff on display. There was a short film that we got to sit and watch. We found out they have a Twitter. I had to check it out despite doing my best to stay away from Twitter. You should check out some of the cool things there too.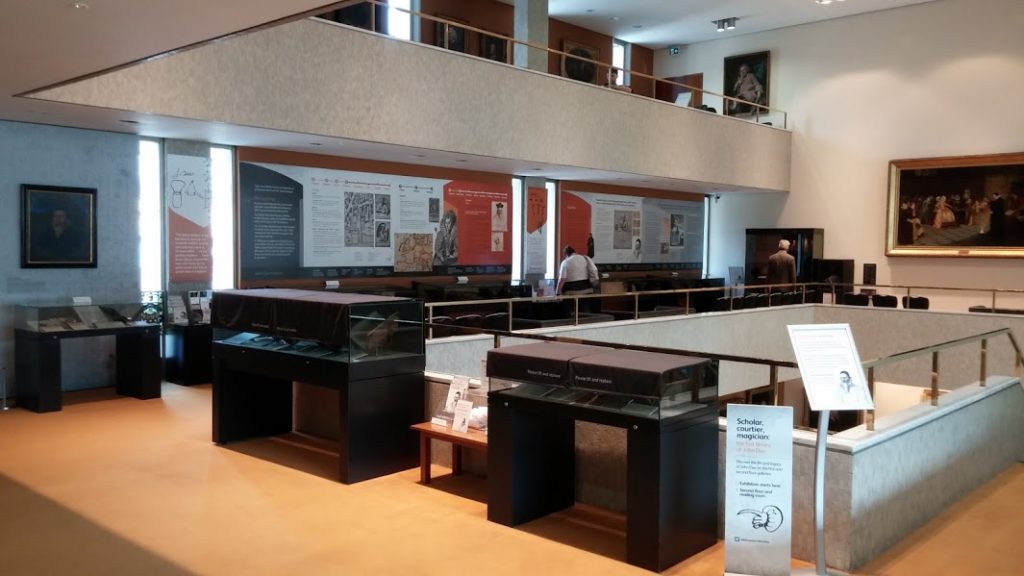 One of the neat things the folks at the college did was set up a doodle contest (of sorts). One of the things Dee was known for was writing notes, annotating and doodling in his library collection. There were postcards out that one could doodle on and submit to their monthly contest. The kiddo and I both whipped one up to enter.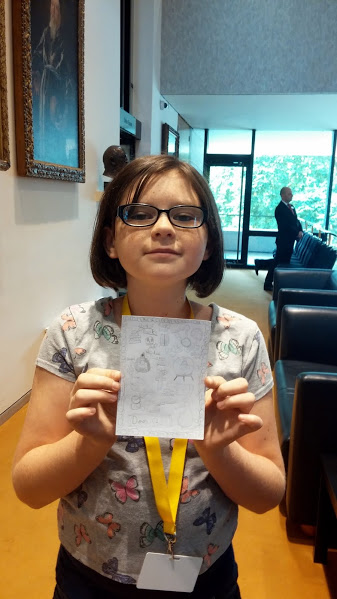 I particularly enjoyed the painting. It's significantly larger than I thought it would be. I love that they've discovered part of the painting had been painted over to cover up certain aspects due to the offended sensibilities of the Victorians.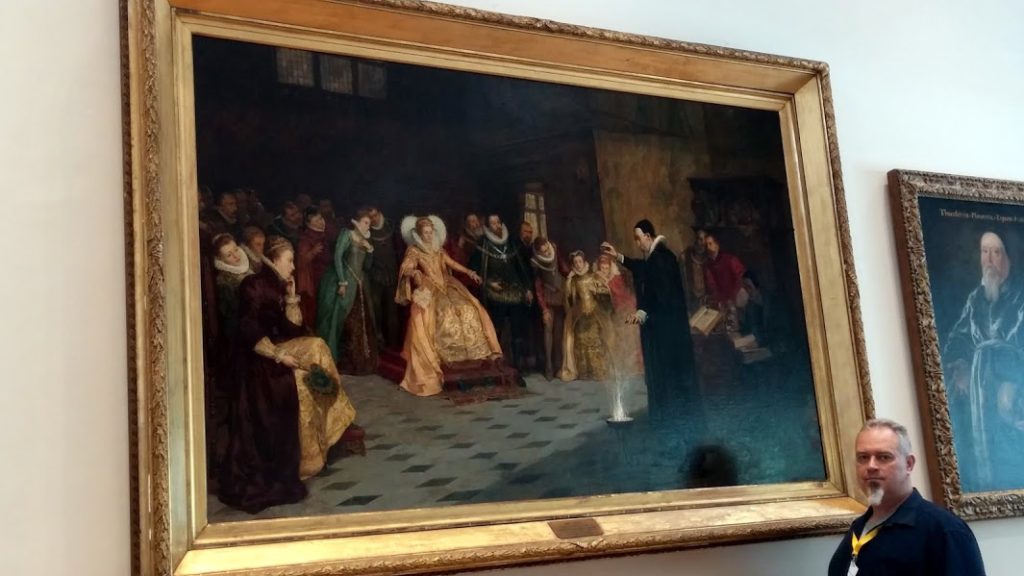 Once we've had our fill of the exhibit we headed off to the underground again and found our way over to the Silver Vaults. We stopped along the way in a little sandwich shop for a fantastic lunch. I know I sound like a bit of a broken record, but once we got away from the main tourist stuff we just had such an amazing time. It's the little things – quiet lunches, finding our way along a new street – that really made this trip so excellent. We passed through private security to get in and headed down to the vault level. NO pictures were allowed. We spent a great deal of time wandering and staring at really expensive silver. A lot of it. One of the shop keepers said it was the world's largest collection of silver under a single roof. We talked to a handful of the shop keepers. There's all sorts of history and interesting stuff going on down there. We even got recommendations for other 'out of the way' places we should go and visit.
Unfortunately we were all but done in again. Lots of walking, constantly being on the go was starting to take its toll on us. We made every effort to avoid rush hour on the subway and headed back to the hotel. It was difficult to believe we were down to our last day already!