I made a quick note on Facebook about giving a longer and more detailed review of this year's convention. IF you're seeing this connected to FB – here it is!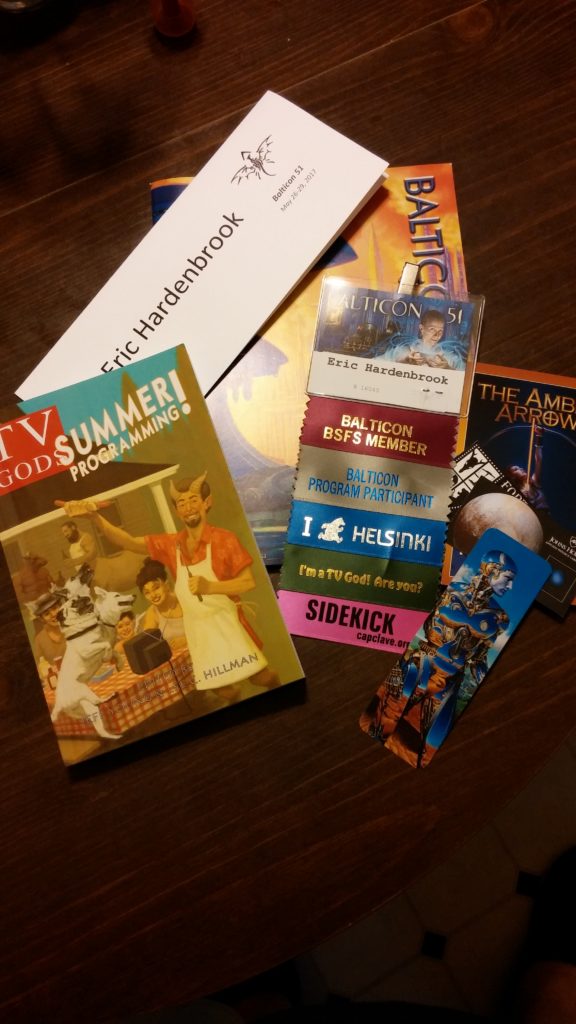 I started going to Balticon back at number 27. Yup, that puts me at about 24 years for this one. Sounds impressive until you realize that I know at least one person (Hi Ray!) that's been to them all. Yes, all of them. That's impressive.
First and I think most importantly credit where credit is due. Programs this year were smooth. Really smooth, not simply as juxtaposed with the struggle of last year. Got my invitation early, got my survey and panels early, and the schedule was posted and available before the week of the convention. WELL DONE!
I had 4 panels and 2 book launch events over the weekend.
The panels I had were editing the short story, reading outside your genre for SFF writers, being a fan of problematic things and the xenoarchaeology road show.
I think editing the short story went relatively well. I also thing reading outside your genre went well – I did my best to toss ideas out there of things I'd read that I felt could be of interest to folks. I got the biggest reaction when I mentioned Devil in the White City as apparently some others have read it. All in all, not bad.
Being a fan of problematic things was going to be a contentious panel. Intellectually I knew this. Emotionally it took a lot bigger toll on me than I thought it might have. It was a difficult panel. I have written about this topic before (Your Protest May Vary published in Watch the Skies and again here at my site) and given the topic a great deal of consideration.
I thought I was prepared. I wasn't. Part of it was the audience. There were a couple of attendees that talked over almost everyone for the duration of the panel. It can be a very personal subject, but I felt it was a disservice to the rest of the folks in the room to do what they did. The moderator struggled against them the entire time. The other struggle was sitting between two panelists with definite thoughts on the matter. I could feel tension just sitting there. I can say that S.M. Stirling impressed me with the depth of knowledge he could bring to hand without notes or references. While I don't know that I shared his opinions, he recalled the specifics of an example I pulled from a very old novel. I pulled the example based on the clarity of the language that might show it to be problematic. He knew the context of the characters and brought all that out in defense of his position on the matter. Agree or not, he had that information rattling around upstairs. By the end of the hour I was just done. It took a lot of effort to stay level and calm for me in there – and it didn't really have much to do with the topic itself.
I've really enjoyed attending the Xenoarchaeology road show in the past. The panel pretends to be archaeologists digging up long forgotten things from a human world. See something come out of the box and make up a great explanation for what it obviously is. I signed up to be a panelist on a whim for this one. It was an hour after the problematic panel, and being funny at the drop of a hat is not easy. Clever, maybe. Witty, perhaps on a good day but not for an hour straight. I don't know that I'll sign up to be on that panel again because I just don't feel like I brought the humor that panel deserved. It was something of a let down to me. I was disappointed in myself, I can only hope the audience had a good time. I know I enjoyed what my fellow panelists came up with as much as the audience did. The running gag of "it's clearly a ritual item…" was pretty funny.
The launch events were Fortress Publishing (TV Gods Summer Programming – available now) and E-spec books (DTF – Man and Machine – available now). The Fortress launch was wedged into the hour between the problematic panel and the road show. I couldn't stay nearly as long as I wanted to, but I did get to sign a few books while I was there. The E-spec launch was a pretty big shin-dig. It took over the con suite for 2 hours. It was really well done and it looked like everyone involved had a really good time.
In between all this programmed goodness was the chance to play test a game for a friend. I can't give out details but I can say I think I'll be jumping on a copy when it comes out! Lots of fun trying to break the mechanics of it and stretch the rules to see where the holes show up.
Surprisingly, I didn't come away from the weekend feeling the creative charge I normally do. I really enjoyed having dinner with friends. I liked sitting and chatting with people that I don't get to see nearly enough. It's a silly thing, but I was extra excited to recognize a 'Sky High' cosplay and earn the pink ribbon you can see in the picture (hey – the preferred term is hero support). Somehow I just didn't feel that juice flow, that battery charging jolt I usually have when I get back to the house.
I would call this year a successful year even without that jolt. It's always good to see old friends and add new ones. I'm going to dive into some projects that have been waiting for me while already plotting and planning for next year!