There's an awful lot out there talking about Star Wars. I'm adding to it and you can't stop me! There will be HUGE spoilers, so if you don't want to be spoiled, I'll give you a warning before I start on that bit.
I am one of the many that watched the original films in the theater. I was 7 when the first film came out and I was totally into the space ships and laser sword fights. I'm still into them.
There's nothing I can say about the "fixes" made to the original series or about the other three films that hasn't been said many other places, many other times so I'm skipping past that.
My first reaction as I walked out of the theater was "That was magnificent". It's true. I was in there for more than two hours and I was superbly entertained. Maybe it was that I had relatively low expectations and they were surpassed across the board. Maybe it was nostalgia and this movie hit at just the right time for me to really enjoy it. Maybe I missed a bunch of things that when I think about them later will make me less happy with the movie.
It's probably something of all those things combined. In the end I was happy with my experience seeing this on the big screen. Happy enough that I'm likely to go back and see it again before it leaves theaters. Yes (secretly of course) I am hoping this film knocks Titanic off the top of the all time movie money list – that's a fluke. I'm certain a number of people were duped by the fact that it was a James Cameron film…
Anyway – Happy. Happy with Star Wars in a way that I haven't been for a very long time. Author John Scalzi has a very well phrased (non-spoilery) review posted over at Whatever where he says a lot of what I'm thinking.
MAJOR SPOILERS LIVE BELOW THIS POINT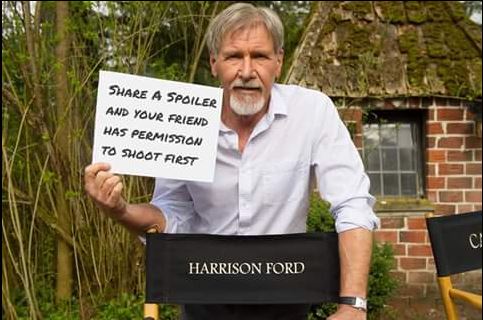 I'm not going to get too deep into why bringing Jar Jar back as the Dark Side's Yoda equivalent was a terrible idea…
Seriously, that's just for those folks that don't really want to be spoiled but can't help but look.
There's one thing that I'm mulling over that just doesn't feel completely right. I know it's going to be endlessly debated by fans for a long time to come, but it doesn't seem right that Han Solo ends the way he does. The thing that bothers me most is that it's a classic film maneuver – the obscure character death. There's no Darth funeral pyre, there's no Jedi robe stomping, just a fall into foggy darkness. I suspect the actor wanted out, so the writers gave it to him but it was ignominious. It's not at all what you expect despite being the one part of the story that was clearly telegraphed to the audience. It's kind of like General Patton surviving all the crazy war stuff he did in his life and then dying in a freaking fender bender car accident. It just doesn't feel right. It's that one bit that is just stuck in my head and I can't put the right words to it. I'm looking forward to discussing this with other folks that have seen the movie already – am I the only one?
I'm clearly not the only one who loves the original movies (and all the nostalgia that goes with them). I have hope for this franchise again. That's the biggest thing the new movie could have given us and it certainly did give me that.