Taking off for another convention within about 18 hours of departing Philcon this year has delayed my normal post con review. Traveling for about a week straight was tiring and it is taking me a while to recover and get all my things back in order.
I was really happy with Philcon this year. The team managed to get a great guest line up and some really interesting panels. Above and beyond the normal comings and goings of the convention, it was fantastic to be able to reconnect with friends and colleagues that I don't get to see as often as I'd like.
I got to be the moderator on one of the most entertaining and exciting panels I've seen in a while. The future of sports. More than one person looked at me with skepticism when I told them this was a topic for a science fiction convention panel. You shouldn't be shocked, there are numerous references in movies and other media that tie directly to science fiction. There's also a ton of actual science behind all this too. It was one of the best panels I've had in a long time. I'm actually going to recommend snatching the idea for another con in the spring – I think it's worth running again.
Next, and most importantly to me, Don Maitz was the artist guest of honor this year. I first encountered his artwork during my very first convention. Balticon 27 he was the artist guest of honor. He'd hung the picture 40 Thieves right in the entry. I walked in and was blown away. That was 25 years ago and this convention was the first time since then that I've been a part of the same con where he was attending again. I grabbed my copy of his book and practically ran to meet him. I was NOT disappointed. He brought amazing art, fun stories (jogging with a steer?) and tips on creating artwork! I went to a drawing demonstration he lead in the art show area and got to sit next to him as he created and doled out little things he's picked up over all the time he's been working. Words don't really do it justice. I just sat there and took it all in, desperate to remember as much as I could.
When I got the chance to chat with him later he was at his sale table. I explained about Balticon 27 and just what an impact his art had – and he pulled out one of the samples of that exact painting, signed it and gave it to me. Then, as if that wasn't nearly enough he graciously signed my copy of his book AND added a sketch. It was awesome.
For those who recall a little thing that happened a few years ago where a bridesmaid was defending a pizza… sadly there were no shenanigans of that level. I suspect it will be a long time before we see something like that again, but given that brides do show up from time to time…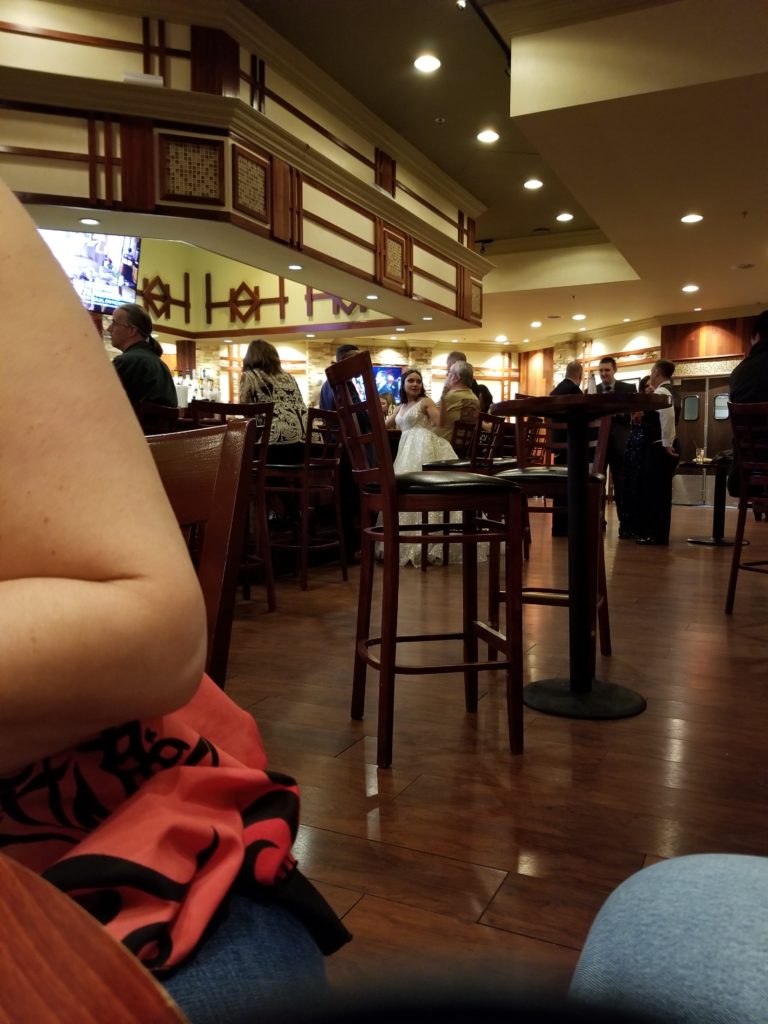 there's always the chance there will be another brawl.
Interesting panel topics, great guests and the chance to get up close and chat with folks in the industry – if you're not signing up to go to your local convention you are missing out. I'm already looking forward to the next Philcon!