There are times when I think that I should be posting more here than I do. I probably should. Thing is, when given the option I'm all in for family stuff. My kiddo is only going to be this age once and I'm not going to miss it.
Yesterday it was party time! She's going to be 12 years old this week so we took a group of friends out for a day of party fun. Off to see the new movie Trolls first. Wasn't my first choice for the weekend – but all the girls really wanted to go. Having been in the packed theater I suspect a certain Marvel movie will have serious competition for top spot of the weekend. I also have to say the cloud character has a part in the film that totally cracked me up.
After the movie it was off to the local game cafe for an entire afternoon of friendly competition and super fun table top games!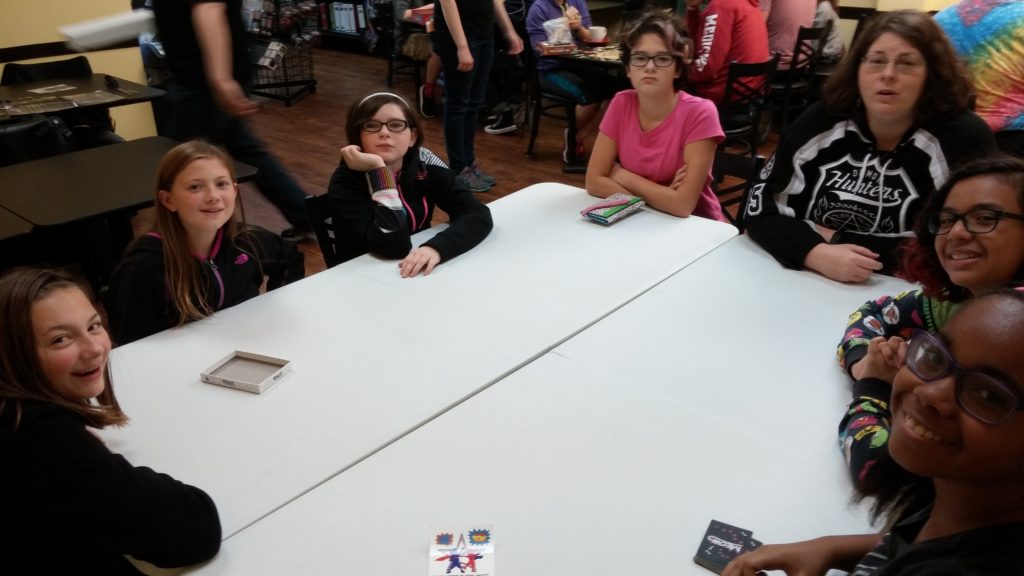 IF you're in our area the Game Table Cafe is a worthy place to hang out. The girls all but destroyed their supply of chocolate chip cookies and took all the cold soda from the counter fridge. We played "MEOW" as a starter (right up their alley) and then ran through a bunch of other fun games. I think there may have been a "Connect 4" tournament that came out of the whole thing, but I'm not sure. I was beaten soundly in round one by one of the girls and couldn't get back into a game!
After hours of games and fun invaded the pizza shop at the end of plaza for pizza and fries. Don't think that growing boys have a monopoly on eating big. Those girls left the pizza trays spinning!
After the pizza there were a couple of gifts, but that wasn't the focus of the day. We all went and had fun together. It was a great time. Totally worth every missed deadline and every missed post here.